Lotus Notes DXL to PDF Converter
Application to Convert Domino Extensible Language to PDF File Format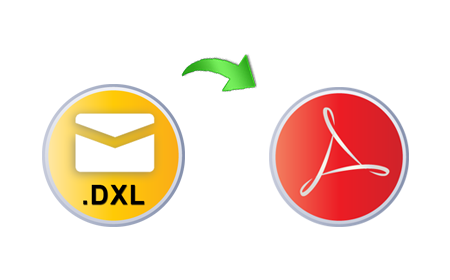 Conversion of Domino Extensible Language Messages to PDF.
Multiple DXL Messages Converted to PDF Retaining Data.
Folder Structure of Messages is Maintained After Conversion.
Lotus Notes Installation Not Required for Tool Execution.
Preview DXL Messages With Meta and Attachments.
Conversion of Lotus DXL Rich-Text (RTF) to PDF Offered.
Resourceful Features of DXL to PDF Converter

Convert DXL Message to PDF
DXL to PDF Converter is a well-versed utility to export Lotus Notes DXL messages to PDF file format which can be accessed and opened easily using Adobe Reader.

PDF File Creation for Each Message
Tool creates an individual PDF file separately for each message available in Domino Extensible Language file i.e. .dxl file which helps for better management of messages.

Retain Meta & Attachments
DXL message's technical properties like sender, receiver, subject, etc. are maintained along with the embedded attachment within the message after conversion to PDF file.

Preview DXL File Message
As soon as the Lotus Notes DXL files are added to the software, a complete preview of the email along with the attachments and the allied Meta data will be displayed.

Selective DXL Export Available
Users can add complete folder of multiple DXL files. DXL to PDF conversion tool allows converting all or selective DXL messages to PDF files as per user's requirement.

Folder Hierarchy Maintained
Tool provides multiple options for folder-hierarchy maintenance like; Maintain Hierarchy, Flat Hierarchy, and Store at Source Location which can be checked as per user's need.

Dual Screen View Modes
DXL to PDF conversion software also allows switching the screen view mode. By default the screen view remains Horizontal which can be changed to the Vertical view mode.

PDF Naming Styles
By default Subject line of the email is used for saving the DXL message as a PDF. Tool provides many other naming conventions which can be chosen as per users' requirement.
Frequently Asked Questions
How to convert emails to PDF files to make them searchable?
DXL to PDF converter provides several naming conventions to save the converted PDF files. One can choose the naming conventions accordingly so that the emails can be searched easily.
Does this software need Lotus Notes installation?
No, DXL to PDF conversion tool is independent tool and does not need Lotus Notes installation in the system for executing the conversion.
What our clients want to say?
Lotus Notes DXL to PDF converter helped us to migrate our Domino Extensible Language files to PDF format. The software has very simple and self-explanatory steps which helped us to perform the conversion without any problem. I am highly gratified with the software and associated service.
-Katy Moore, Columbia
We were having some issues with the DXL to PDF conversion tool and hence we contacted the technical support experts to help us with the execution. I would like to appreciate the support team to show the patience and perseverance to resolve our queries and help us with tool's execution.
-James Wordsworth, Australia