EDB to PDF Converter
Tool To Move Mailboxes and Public Folders from EDB into Adobe PDF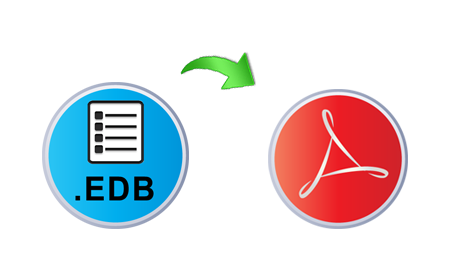 Swiftly Move All Items from Exchange EDB Mailbox to PDF Files.
Independent Application, Does not Require Exchange Installation.
Preview of the emails with attachments before migration
Resultant PDF File Would be Searchable PDF File for Adobe.
No limitation on Exchange Database Size Saved in EDB File.
Conversion of Corrupt/Inaccessible EDB File Supported.
Features List: Exchange Database (EDB) to PDF Migration Tool

EDB to PDF File Conversion
The software supports migration of emails, contacts, calendars, and other items from EDB file to Adobe PDF file. At the time of file conversion process, all properties of the database will be maintained.

Scan EDB in Corrupt State
The EDB to PST Converter supports migration of data from corrupt Exchange DB file. For successful recovery, ensure that priv.edb for mailbox and pub.edb for public folders is selected while browsing file.

Preview EDB File Contents
The software thoroughly scans the selected EDB file and gives a preview of all the mailboxes, their folders, and individual items in it on screen. Preview is available within software interface itself.

Selected Export Support
With this Windows based solution for EDB file conversion to PDF, there is facility to select specific items by using checkboxes and then export them to PDF. This saves overall conversion time.

Export Report on Screen
While conversion, the software gives a live report of data migration on screen. The details include what has been processed, what is in progress, and what has to be processed by the tool.

Source EDB Untouched
The software does not make any changes to the source EDB file. The tool extracts data from the browsed EDB file and the export its contents into separate folder that have data saved as PDF file.
Frequently Asked Questions
How will the software save my emails in PDF File?
The software first maintains hierarchy of folders and these folders will have PDF file for individual mail. The emails with their attachments will be saved in the PDF file.
Will I get the attachment in PDF File?
No, the software will retain originality of data. If the attachment is a Word file, the software will maintain the format.
If my EDB file is corrupt, will the software repair it?
If the EDB file is in corrupt state, the software will scan it to recover data from it. The recovered data will then be saved into PDF file.
What our clients want to say?
In a market where a third party tools is a business, it is hard to find a brand that works for the customers. I want to say thanks to the executive whom I connected through live chat for assistance. The suggestion for EDB to PDF converter worked absolutely well for my situation and I am glad that I reached it
-Gavin, New Zealand
Moving Exchange database is not an easy task. You have to take care of various factors like mailbox accessibility, permissions etc. This EDB to PDF Converter is our companion in digital forensics because we move data in PDF for easy examination and independence from Exchange Server.
-Bella, Latvia