MBOX to PDF Converter
Open, View and Export the MBOX files to PDF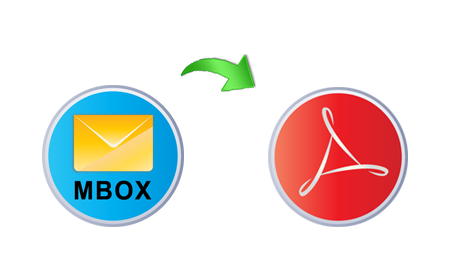 Open, Preview and Export Emails from MBOX to PDF documents.
Enables to analyze emails and attachments with different views.
Standalone tool which is independent of other applications.
Allows bulk as well as selective exporting of emails and its attributes.
Enables to have advanced filtering options from bulk emails.
Can have Multiple Naming conventions while exporting.
Prominent Features of MBOX to PDF Converter Tool

MBOX to PDF conversion
An ultimate tool to convert any MBOX emails to PDF document. It is capable of handling large number of files without any size limitations. The conversion maintains all the Meta properties of the emails.

Preview the Contents
The tool provides a platform to preview all the contents from MBOX file. The emails can be previewed along with the attachments. The preview gives a clear idea about the contents of the MBOX file.

Multiple Views to Emails
The tool enables to have a detailed analysis of the emails by providing different views other than the normal view of the email content. The additional views include RTF view, HTML view, MIME view, header view, etc.

Filter out the required
The advanced search can be carried out within then emails to sort out the required emails. The search option is tied with filtering of emails based on from, to, keyword, subjects, etc.

Multiple naming patterns
The MBOX to PDF converter provides multiple naming conventions to identify the PDF documents by name. The names are created as a combination of subject, date sender, receiver, etc.

Selective migration of emails
The migration of emails from MBOX to PDF can be carried out in two ways: selectively as well as in bulk. The preview of documents and the filtering option helps to have selective exporting.

Export and save
The previewed emails can exported to PDF documents can be saved to the desired location in a folder. User can maintain separate folder to manage the emails efficiently.

Standalone tool
The PDF viewer is an independent standalone tool to convert MBOX to PDF. Tool is does not require any Mail clients like OperaMail to open the MBOX files.
Frequently Asked Questions
Can I view the contents from my inaccessible MBOX files?
No, you cannot open or view the contents from the corrupted or inaccessible MBOX files. But you can open healthy MBOX files from various mail clients.
Is it possible to export the mails from a particular sender?
Yes, you can export by filtering particular emails based on sender/ receiver/ date/ subject.
What our clients want to say?
I could convert may emails to PDF and carry my email documents as PDF in many official meetings. The tool enabled me to have a more portable email document. I would like to mention the naming feature provided by the tool as an excellent work which enables the users to identify the PDF files very easily. Thank you for your great work.
-Geneva Wilkins
I was in search of a tool to convert my MBOX emails to PDF so that it will be more portable. Finally I can across the MBOX viewer tool. I tried the Trail version and was completed satisfied with its features so that I could upgrade it to Pro. I would like to suggest this tool to those who are in search of a tool to convert MBOX to PDF. Thanks guys
-Charlene Foster