Adobe PDF Form Filler
Tool to Fill & Edit Adobe PDF Forms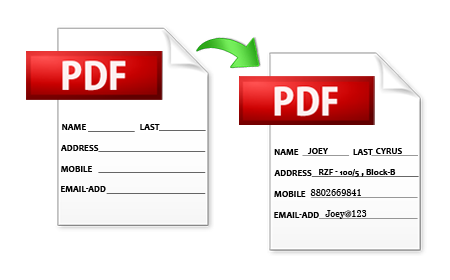 Permission to fill out restricted and non-editable PDF forms
Option to Save output file as a Restricted PDF
Easily can clear all text fields of pdf form
Allows to clear all fields to clear the data already filled
Option to Zoom In/Out for better view of PDF File
Adobe Acrobat Reader installation is not mandatory
Specifications & Features of PDF Form Filler Software
Fill Restricted PDF Form
This pdf form editor is authorized to fill and save PDF forms which is having the restrictions to edit any information in the provided fields. Load the PDF Document in the PDF Form filler software to unrestrict the option of fill and sign pdf.

Highlighted Fields
To make easy PDF form filling, this tool will also highlight the fields of PDF form. The software will be highlighted all the fields which can be filled after loading, and thus it becomes easier to manage the form filling.

Export Data Option
Export the data of PDF form including the information and then clear the fields via PDF form editor software to add another information on it. This software authorize for refilling the details to the same form using the "Export Data" option for many users.

Save As Restricted PDF
PDF Editor Software will maintain the restrictions after the completion of fill PDF form process including: Print, Edit & Copy. It also allows the option to make the document secure or not for the future reference before the clicking on "Save as PDF".

Save PDF in New Folder
After the completion of PDF form filling process, the software authorize you to save it in your desired location. PDF form editor utility allows to create a new folder from the interface of the tool. This option completely avoids the confusion and keeps the filled PDF forms safely.

Experience The Ease
The interface of the Form Filler Software is easy and graphical and thus it can be handled with an ease. The overall performance of the software is smooth and fast and you can save many copies of forms with different information.
Frequently Asked Questions
Can I use this software to fill PDF forms in restricted mode?
Yes, the software allows you to fill PDF forms despite the restrictions applied to it.
Does the tool support Windows 8.1 Operating System?
Yes, PDF Form Filler Software is made for Windows users; you can use it on any Windows version.
Can I export PDF Form data After filling it out?
Yes, you can export data from filled PDF forms.
Is Adobe Acrobat installation required for using the tool?
Yes, you are required to have Adobe Acrobat installed on your machine to use the tool.
What Our Customer Say...
PDF forms with restrictions were difficult to be filled. Thankfully we got this PDF Form Filler tool to solve our issue. The application is very easy to run and helped us to fill forms for many employees. Thanks for such a useful tool.
-Adom
The performance of the software is commendable and features integrated. This is a very innovative and convenient solution for removing restrictions and letting us fill the restricted non-editable forms.
-Georgia