PDF Split & Merger Software
Tool to Split PDF Into Multiple Files & Merge Batch PDF Files Into One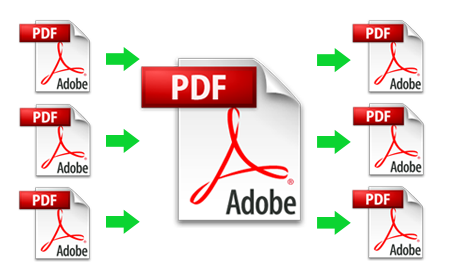 Merge multiple PDF files into a single file
Split PDF Files using Even and Odd Range modes
Combine Unlimited number of PDF documents into single file
Split PDF Files by Page and Page Range modes
Compatible with all the versions of Adobe Acrobat; up to 11.0
Reliable to use this Software to Split and Merge PDF Files
Features in PDF Splitter and Merger Software

Seperate/Merge PDF Files
PDF split and merge software is particularly developed for proper management of Adobe's PDF file. Hence, it can split pages of PDF files and unite them too according to requirement.

4 Distinct Ways To Split PDF File
The tool work to combine the PDF as well as splitter. It's provides four different ways to split the large sized of PDF file to separate according to pages/range wise or set even/odd count to split the PDF.

Break Documents by Pages/Range
Software used to separate the large portable documents file. Using this tool, the huge size of PDF file to split section wise or alternately divide into specific range with retaining the format of the document.

Split PDF by Even/Odd Pages
Seperate PDF file via even/out count of the PDF pages according to as per user choice. This software will maintain the PDF documents content and texture while spliting wihout any alterations.

Merge Multiple PDF Files
Several PDF files can be joined with the functionality to add multiple pdf into one. This feature adds the benefits of the file management.

Bulk Split & Merge Facility
With PDF Split and Merge software, user can split and merge the file in bulk wihtout wasting the valuable time. Even, this will reduce the work load as well.

All Acrobat Release Supported
The split and merge feature will support to all version of Adobe PDF files either the version is old or latest one.

All Windows Versions Supported
This software edition is compatible with all MS Windows Operating System either the OS is latest or not.
Frequently Asked Questions
Can I Split or Merge multiple PDF files in one go
Yes, this software allows the users to Split & Merge the PDF files in batch.
Can I split only selective PDF file pages?
Yes,this tool provides you an option to split the pages with multiple modes like page, range, even & odd.
Is it supporting to reassemble all the split PDF file according to ourself?
Of Course,our PDF Split and Merge Software allows to arrange the section according to your choice.
What is the importance of this tool?
It will help you to minimize the huge size of PDF file by splitting in to the sections. It also offers you to combine PDF files into one.
What Our Customer Say...
The PDF Split & Merge tool really made it possible for me to manage PDF files easily and effectively. I just had to click a few times to employ the tool for combining PDF files together or divide them into parts. I used it to combine two PDF files and found it to be just awesome.
-Alice Matthew
I am really overwhelmed by the self-explanatory interface with the split and merge PDF software. I am not very good at handling computer files and software applications. But the tool is so user-friendly., it helps to manage PDF files with a smooth and simple process of execution.
-Sofia Hughes