PDF Watermark Eraser
Software to Remove Watermark From Adobe PDF Files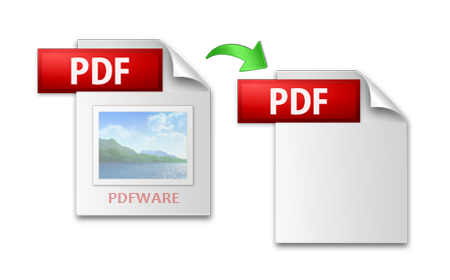 PDF Watermark Eraser allows watermark removal from multiple files
Remove Signature Logo, Stamp, Signature, Watermark
Remove Watermark only from Adobe Acrobat PDF files
No changes to data made during watermark removal
Adobe Reader should be installed on performing machine
PDF Watermark Eraser supports all versions of Windows OS up to 10
Adobe Reader 9.0 & below version should be installed on machine
Features of The Watermark Eraser Software

Watermark Removal in Bulk
The watermark remover software has the ability to erase watermark from PDF easily from multiple Adobe Acrobat PDF files all at once i.e. in batch.  With the Add folder option of this tool, you can directly add multiple PDF files all saved at a common location. Also, you can remove unwanted PDF files using the option to remove PDF files from the list.

Presents Progress Report
The Watermark Eraser Software shows the progress summary on its execution. The summary includes details such as file name, file path, and current status. It is really an advanced feature. Before you begin watermark removal process, the default status will appear as Not Started.

Preserves Data Integrity
While removing watermark from PDF files, Watermark Remover Software maintains the originality of PDF files. There will be no changes made to the PDF file data, it's formatting or the restriction that are present in the PDF file. The software will only remove watermarks from selected PDF's without making any changes to its original data.

Backs Adobe Acrobat PDF
PDF documents created by Adobe Acrobat Reader only, are supported by the Watermark Eraser Software and not others. Watermarks on files created by other software application cannot be detached by PDF remover. Thus, users can edit and renew the document without watermark or with new watermark imposed.

Removes Image Watermark Also
Watermarks in the form of text are removed by the PDF Watermark Remover and also watermark in the form of embedded images like a logo, stamp, signature, etc., on files can also be removed. This tool is highly efficient and easy to use. Users can easily save file at any desired location.

Supported on All Windows Releases
Being a Windows based solution it supports to run on all Windows versions up to 10. And allows users to perform an easy and convenient software download. Along with this, the PDF Watermark Remover application is capable of running smoothly with any version of Adobe Acrobat as it supports all its editions.

Supports All Versions of Adobe PDF
PDF files created by Adobe Acrobat Reader release 9.0 and even its lower version are supported by the watermark remover software to remove watermarks. This tool is highly efficient to erase watermarks and easy to use even non-technical users can use it easily.

Acrobat Reader Installation a Must
Adobe Acrobat Reader installation and configuration on Windows OS is essential for the PDF Watermark Remover to be executed. PDF Document Watermark Remover will only remove watermarks from selected PDF's without making any changes to its original data format.
Frequently Asked Questions
Can I remove watermark from multiple files at a time?
Yes, PDF Wtermark Eraser supports removing watermark from multiple files in batch.
Can the PDF Document Watermark Eraser remove logo, stamp, and signature watermark from PDF?
Yes, this software removes all types of watermark from PDF files.
Can I use PDF Watermark Eraser on my Windows OS version XP?
Yes, you can easily use this on Windows OS version XP & this tool also supports all Window versions up to 10.
Is my data secure or there is a chance of any data loss while using PDF Watermark Eraser?
Yes, PDF Watermark Eraser is made of high technique algorithms. It will just remove watermark from the PDF file(s) and not lead to any data loss.
What Our Customer Say...
I am really overwhelmed with the tool as it is very easy to work with. It removed watermarks from multiple PDF files of mine in a single go. Thanks a lot to the developers of this Company.
-Jim Walker
The tool is indeed a great one as it is equipped with advanced and enhanced features. It allows removal of all types of watermark in just a few clicks. It also does not hamper data integrity which is one of the most attracting characteristics.
-Tom Ben
Thanks to PDF Watermark Remover, it easily removes text as well as image watermark from PDF document. It not only intent to serve technically sound solution but does that in user-friendly manner.
-James
I would like to appreciate the working of PDF Watermark Remover. I am a student and mistakenly i added watermarks on my PDF documents. My friend suggested me to use this tool and I must say this tool is highly efficient to use.
-Benny
I urgently want to remove watermark from my PDF files big thanks to PDF Watermark Eraser that easily removes the watermark. I must thanks to PDFWare for creating such utility.
-Jhon
PDF Watermark Eraser helps me to easily remove watermarks from multiple files at once wherever I need. This tool really saves me and solve my problem. Thanks for introducing such kind of utility.
-Perry
PDF WATERMARK REMOVER ORDER NOW
Features
FREE Version
FULL Version
Add PDF Document & Folder
Delete Watermark from Bulk PDF Documents
Erase Text & Image Watermark from PDF
Remove only Adobe Acrobat PDF Watermarks
Compatible with all Windows OS versions upto 10
Erase Watermark from PDF

With Watermark

without Watermark

Cost

Free

$29

Purchase