Efficiently Download All Gmail Data Using Google Takeout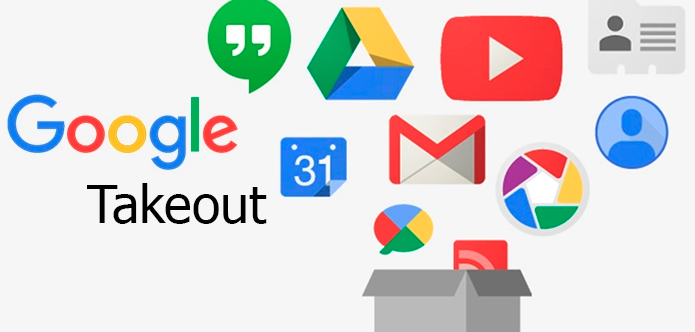 Google Takeout is a project created by an internal Google engineering team marketed as the Data Liberation Front. Google Takeout feature provides a handy and easy way to download all Gmail data. All Google products like mails, contacts, calendars, tasks, youtube, etc are stored in Zip file. Moreover, a user can select services from the list provided and download selected items. After the completion of the download, the zip file contains a separate folder for each service that was selected for export.
How Google Takeout Restore Gmail Data Quickly
The user should have to follow to save Gmail data, some useful steps which are given below-
Firstly, log in with your Google Account email and password.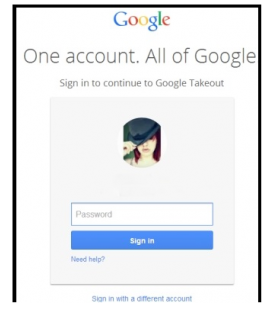 After entering email and password user can choose Google products to include in your archive and configure the settings for each product.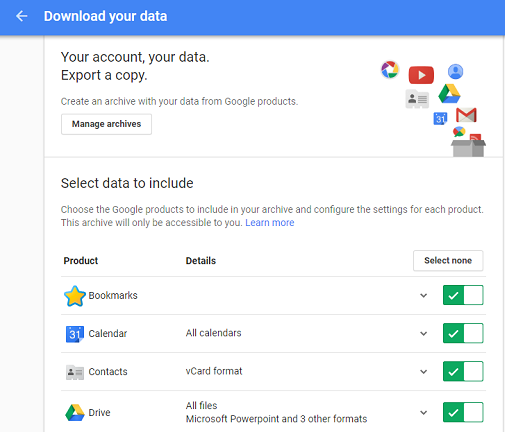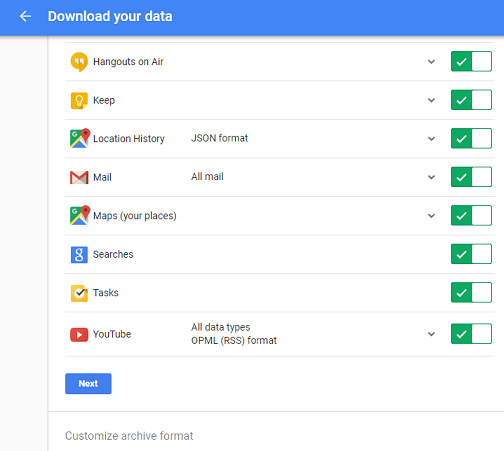 A new window will get opened showing details like File Type, Archive Size, and Delivery Method.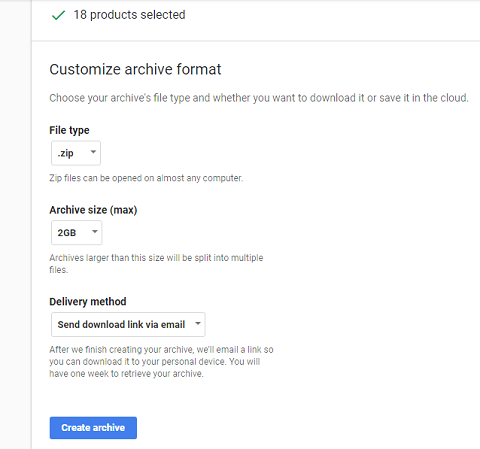 Choose your archive's file type and whether you want to download it or save it in the cloud.
Basically, there are 3 file type available .zip, .tbz, .tgz.
The user can also choose any Archive size.
Four Delivery methods are available like –
Send download link via email
Add to Drive
Add to Dropbox
Add to OneDrive
Now click create archive
Once you click on 'create archive' button, you will automatically get logged out from the account.
Again log into the account.
Zip file with all your data will get save on machine.
How Does Google Takeout Download all Gmail Data
Google Takeout feature helps user to store different Google services in sepratet file formats, some of them are mentioned below :-
Gmail Messages
MBOX : The email messages of Gmail along with attachments get saved in MBOX file format. This file format is supported by different email clients that includes Outlook 2011 for Mac, Apple Mail, Entourage, Thunderbird, and many others. By default, single MBOX file will get created for all the emails.
Google Contacts
vCard : By default, contacts are saved into Vcard VCF file format. Basically, it is an electronic business card that is compatible with a number of email applications like Outlook, Gmail, Lotus Notes; various OS like Windows, Mac OS X, Phones running on OS like Android, iOS, Blackberry.
HTML : Google Transfer backup helps the user to save contacts in HTML file format. Which allows a user to import them into Contact Manager Software.
CSV: Comma Separated Values also save contact details in a managed form through spreadsheets.
Google Spreadsheets
XLSX (Default): By default, Google spreadsheets saves in XLSX file format.
ODS: The Open Document Spreadsheet easily view in open source processors
PDF: When spreadsheets are downloaded as PDF file, it can be read in multiple OS on an installation of Adobe
Reader. However, they cannot be edited without Adobe Acrobat.
Google Presentation
PPTX (Default): By default, it saves presentations in PPTX file format.
OPD: Presentations can be downloaded into open source processors like OpenOffice.
PNG Image: Every slide in presentation can be downloaded as a static image in PNG.
PDF: Slides can be saved as Adobe PDF file format.
Plain Text: Presentation of text data will be preserved but the images and formatting will be lost.
Apart from these services, there are multiple Google products which save files in different file formats.
Tip
Google Takeout allows users to download all Gmail Data either saving three times in a day or seven times in a week.
Final Words
Google Takeout aims at making it easier for users to move in and out data from Google. It saves data in zip file format. Moreover, if any user requires to change file type, he/she can easily change it. Here, we have seen how Google Takeout restores or download all Gmail data. And also diffrent file format in which google products are saved.