Entourage to PDF Converter
View And Convert Entourage Email To PDF File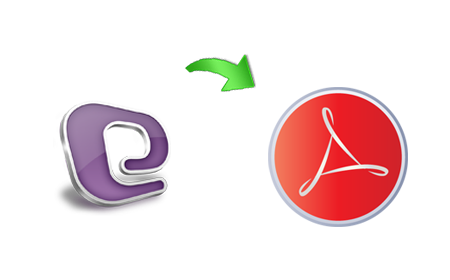 Open, view and export Entourage mails to PDF file.
Multiple view available to view Entourage emails.
Supports conversion of Entourage emails in bulk.
Option to export selective Entourage mails to PDF.
Search option to facilitate search selected mails.
Variety of naming options for naming PDF files.
Primary Features of Entourage to PDF Converter

View & Convert Entourage Emails
Entourage email to PDF Converter allows the user to view and convert the entire emails to PDF file. No size limitation is imposed on the file and the user can convert Entourage emails irrespective of their size.

Search Option Available
The advanced search option in the software enables the user to search for a particular mail by entering a certain keyword or phrase in the search box. The emails containing the keywords will be listed immediately.

Multiple Views to View Emails
In order to perform detailed analysis of Entourage emails, different views have been made available in the software. Normal view, RTF view, MIME view, Attachments view, are some of the available views.

Conversion Of Selected Mails
Users can selectively convert Entourage emails to PDF file by selecting the required emails and selecting the export option. Entourage email to PDF Converter enables the user to avoid converting unnecessary emails to PDF.
Naming Options For PDF Files
Entourage to PDF Converter offers the option to name the resultant PDF file. The different naming conventions include Subject, the combination of date and sender, etc. This makes it easy for users to manage PDF resultant files.

Filter Out Unnecessary Folders
With Entourage emails to PDF Converter, you can also filter out those folders which are unnecessary. Only select the folders that are required by and export them to PDF format.

Save PDF At Desired Location
The output PDF file can be saved at a user desired location. Entourage to PDF Converter user can save & convert Entourage email to PDF file in a new folder or also in an existing folder.

Entourage Not Necessary
In order to perform the conversion, the Entourage email to PDF Converter does not require the installation of Entourage in the user machine. It is a standalone utility and thus there is no need of any client installation.
Frequently Asked Questions
Is there any limitation on the number of Entourage emails that need to be converted?
No, there is no limitation on the number of Entourage emails that can be converted to PDF files.
Is Entourage installation necessary for performing the conversion?
No,, The software Entourage email to PDF Converter being a stand-alone application does not require the installation of Entourage to convert Entourage email to PDF File.
Does this Entourage to PDF Converter provides searching option?
Yes, software provides advance searching option to find particular mail by entering keyword or phrase.
Does this software support latest entourage emails?
Yes, this tool supports all versions of entourage emails upto MS Entourage 2008 (12.3.6).
What Our Clients Want to Say?
With Entourage To PDF Converter, we were able to carve the evidences from Entourage mails and got them converter them in legally acceptable PDF format. it's a really efficient tool with great features.
-Orville Clark, USA
The naming option for naming the output PDF files helps to sort out the large number of PDF files. I was able to differentiate between the different PDF files on the basis of their subjects.
-Moses McGee, Scotland