Outlook PST to PDF Converter
Utility to Convert MS Outlook PST to PDF File Format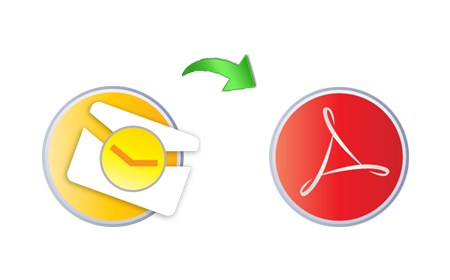 Convert All Outlook PST Items: Emails, Calendars, Contacts, Notes, etc.
Dual Scanning Modes: Quick & Advance Scanning Mode
Multiple Naming Conventions for Saving Converted PDF Files
Provides Dual Modes for Adding PST: File and Folder
Provides Bates Numbering and Date Stamping feature
Support Any Size of PST Files of Both ANSI & Unicode Type
Users Can Apply Preferred Date Filter and File Naming Conventions
Convert Outlook PST to PDF with attachments in Portrait & Landscape mode
MS Outlook Application Not Mandatory for Conversion
Proficient Features of Outlook PST to PDF Converter

Convert Complete PST Items
PST File to PDF Conversion tool offers complete conversion of all the PST items including; Emails, Contacts, Calendars, Tasks, Notes, Journals, etc. to PDF files retaining the original technical attributes of these items. The tool also converts all types of email attachments by embedding it within PDF file.

Provide File & Folder Mode
Outlook PST to PDF Converter provides two options while adding Outlook PST file into the software: File Mode and Folder Mode. File Mode adds single OUtlook PST File and Folder Mode includes multiple number of PST files at the same time in order to convert its data items in PDF file format.

Preview Outlook PST Items
After the PST files are added to the tool, it performs the scanning of Outlook PST file. Then the software allows you to preview all the items like emails, calendars, tasks, notes, contacts etc. Also, a user can view associated properties like To, Cc, Bcc, Received date, Sent date, email address etc. before conversion

Migrate Multiple PST Files to PDF
Outlook PST file to PDF Converter tool allows a user to add multiple Personal Storage Table files with the help of Folder Mode. This allows you to convert Outlook PST files in bulk to PDF file format. This tool is also compatible with all latest Windows OS versions including Windows 10.

Export Selective Folders
The tool also allows conversion of selective folders located within the PTS files. As the users click on Export button, an export window will pop up. They can check or uncheck the folders from the left side and the application will convert only the selected folders of Outlook PST file to PDF.

Date Filter Option
PDFWare Outlook PST to PDF Converter Tool is highly efficient as it allows users to filter out emails stored in Outlook PST based on the specific date range. This feature helps the users to convert the emails of only their required date range and thus save time and hard disk space.

Convert Selective Items
Users can export selective items from Category section available inside Advanced Settings: emails, contacts, journals, tasks, notes etc. Users only have to check items which they want to convert as PDF and proceed with the data conversion. The tool will convert only data belonging to the selected categories.

Distinct Naming Conventions
In order to make converted PDF files easily searchable, the tool provides multiple naming styles for saving and sorting converted Outlook data items. Users can choose from any naming styles like Save as subject, DD-MM-YY, MM-DD-YY, autoincrement etc, to save the converted Outliook emails.

Page Layout & Orientation
Outlook PST to PDF Converter is very useful application as it allows users to set various PDF file formattings. Users can select page margin width on all page sides, choose Page Orientation between Landscape or Portrait, select PDF file Paper Size as Letter, A4, & A3.

Save Converted PDFs in New Folder
In order to avoid any confusion, PST file to PDF Converter allows you to save the output PDF file at any desired location as per your choice. Also, the tool allows you create a new folder from the software panel itself and save resultant files into it.

Date Stamping & Bates Numbering
Outlook PST to PDF Converter provides additional features within the Advanced Setting section that allow users to specify the Bates Number in PDF in the chosen position and also allows Date Stamping feature. These features are helpful for forensic investiugators and lawyers.

Maintain Folder Hierarchy
PST file to Adobe PDF Converter allows users to maintain Folder Hierarchy of the original Outlook data file while exporting PST file to Portable Document Format. Users do not have to search for thjeir required emails as the folders will be sorted as they were in MS Outlook.
Outlook PST to PDF Exporter — Screenshots
Outlook PST to PDF Converter — Frequently Asked Questions
Will this software convert the attachment file to PDF as well?
Outlook to PDF Converter tool performs the exports the email attachments but not in PDF file format. It will embed the attachment to the PDF file in its original format.
How to view the attachments?
Attachments can be viewed by clicking the paper-clip icon of the converted PDF file.
Can I Add Bates Number in PDF?
Yes, users can specify the page number in PDF and its position in this Outlook PST to PDF Converter.
Is Microsoft Outlook installation mandatory for this tool?
No, installation of Microsoft Outlook is not mandatory for the software.
Can I migrate multiple PST files?
Yes, you can add a folder containing multiple PST files for conversion.
What Our Clients Want to Say?
Outlook PST File to PDF converter is an impeccable tool to convert PST to Adobe PDF file format. It is furnished with multiple features which makes the conversion process even amootyh and effortless. It helped me to convert the Outlook 2019 emails of my choice into PDF in a few minutes using the selective conversion feature.
-Amon Cruz, Italy
I needed to send some important emails from my Outlook application to a client who was using Linux system. Hence I wanted to convert emails into PDF, which he can access from his system easily. Soon I found this Outlook to PDF Converter that made my task really easy. IOt helped me to convert PST emails to PDF along with attachments without altering original fomratting.
-Carol Clare, London
This tool really helped me a lot because I urgently needed a software which could scan and convert Outlook PST file to PDF without any data loss. One of my friends suggested me this tool. Completely satisfied with this tool as it worked perfectly with large sized Outlook PST files too. Thanks to PDFWare for this amazing utility.
Denny, Singapore
Can't explain how satisfied I was after using Outlook PST to PDF Converter. This software is highly efficient and offers fast and 100% accurate results. It also allowed me to apply page number of my PDF files dirctly from the software interface. Hats off to the development team for creating such an extraordinary software.
-Kate, UK
Outlook PST to PDF Converter Order Now
Features
FREE Version
FULL Version
Add Outlook PST files
Advance scanning of PST Files
Convert multiple PST file to PDF
Filter Option
Provides Naming Convention
View email with attachments
Compatible with all Windows OS versions upto 10
Export Outlook PST to PDF

25 Files/Folders

All files

Cost

Free

$49

Purchase