Solved Issue "PDF Files Not Printing" – Now Simply Print Adobe PDF Files
The PDF file format is the most common file format used for legal & business purposes in most offices. You may know PDF offers many features likes: Password Protection, Restrictions (editing, printing, copying, extracting), Storing images and text in the same format and many others. There are many applications available on the internet, to view & edit PDF files, but they have different system requirements to run correctly.  That's why Adobe Acrobat Reader is found to be the best software and is freely available for Viewing & Editing PDF files on Windows Operating systems as well as on other Operating Systems. Adobe Acrobat Reader application is free to download on any computer which is one of the top reasons why people are using PDF files. However, at some point due to technical faults, usually users face errors like"PDF Files Not Printing".
So, we have described why it happens and how we can solve it. Below we have listed some common symptoms due to which users get unable to print PDF files:
The Symptoms of  "Can't Print PDF Documents" Errors
Below are some of the common symptoms faced during printing PDFs:
Only the first page of a PDF file gets printed while sometimes the second page is printed, but with an error message displayed on the screen.
A printed PDF document comes out with blurry text;
A blank page comes out instead of the document printed;
Images are missing from the printed document;
Files do not get printed;
Back to front page order option does not work;
Blank pages are printed instead of the document text;
All sets are stapled together;
Parts of the document Graphics, Text, or Illustrations are missing.
You may have seen one of the mentioned symptoms on your system while printing a Portable Document Format file. Sometimes users try to print multiple PDF files at once. Because of this, it starts printing partially which can be seen as blurry or in a few cases, it does not print a single page.
The most common error that comes while printing is "This document failed to print" due to which users are not able to print PDF documents. However, you can view the PDF file, but you can't print PDF documents. So we are sharing some tips and a method below for users who are facing any errors and are unable to print PDF files.
List of Methods to Solve the Issue"PDF Files Not Printing"
1: Check The Printer by Printing Other Files:
If you can't print PDF documents, then before following the below solutions, try to print a Word file or any other image to check whether the problem is with the document or the printer.
2: Check the Default Printer Setting:
Follow the below-mentioned steps to change the settings to make the available printer as default.
1: Open Device and Printer setting from Start Menu in Windows 7/8/Vista or Open Printer Setting from Control Panel (Windows XP):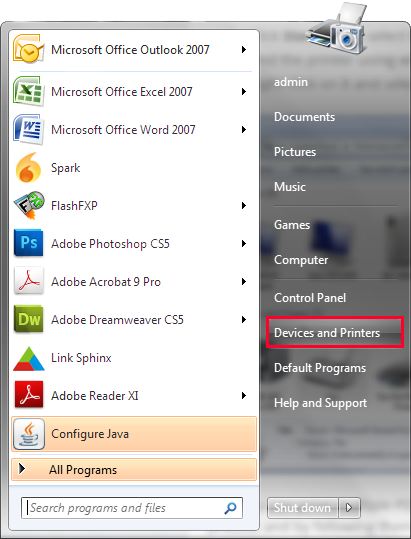 2: Now Right click on the Printer that you want to use as default and select the Set as default option.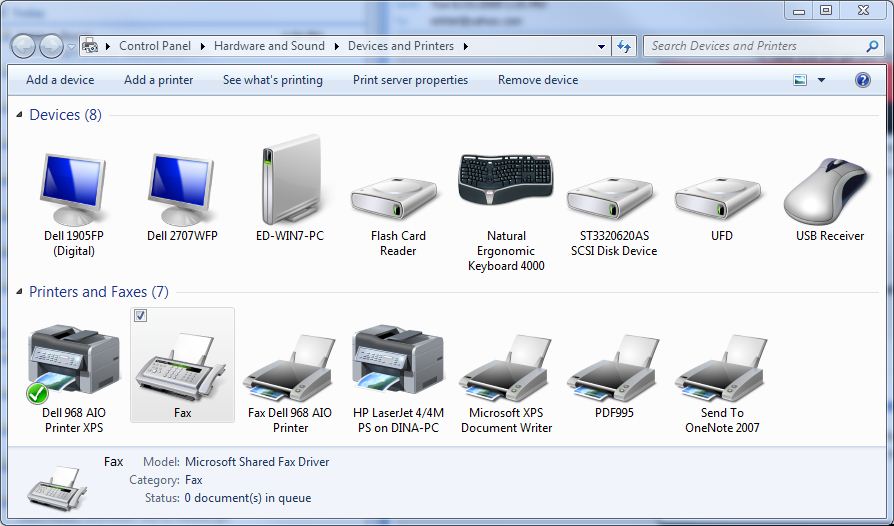 3: Reinstall or Update Adobe Acrobat
Sometimes Adobe Acrobat is the reason your PDF files not printing. It may be possible because you are using an older version of Adobe while a new one is available. This issue "unable to print PDF files" can be solved by reinstalling Adobe Acrobat Reader or by updating its version to the latest available version.
Steps to Update Adobe Acrobat:
Open Adobe Acrobat, from the menu toolbar, click on the Help button, then click on Check for Update: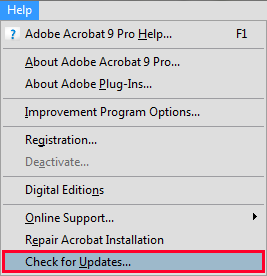 If there are any updates, then you will see a popup for updating to it. Otherwise, you will see a popup "no new updates".
Reinstall or Update Printer Drivers to Solve "PDF Files Not Printing"
Check the Printer Company & Product Name of the printer, then visit the company website and download suitable drivers from there. Or if you already have printer drivers in a CD, then you can install it from that as well.
Changing Print as Image Setting in Adobe Acrobat:
Select the [Print as Image] Option in Adobe Acrobat to solve this error in Adobe Acrobat:
NOTE: It may take longer to print, when a PDF file is printed as an image.
1: Click on the File button given on the toolbar, then select the Print option. The print window can be seen now: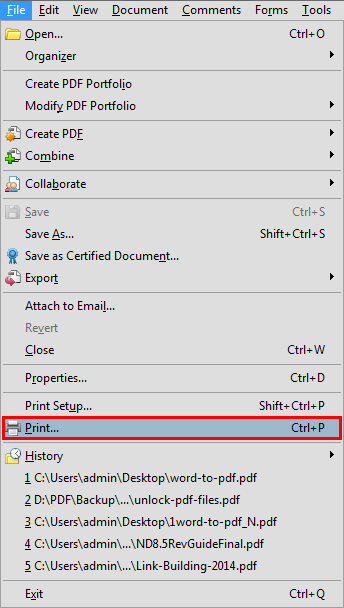 2: Click on the Advanced button to view more settings.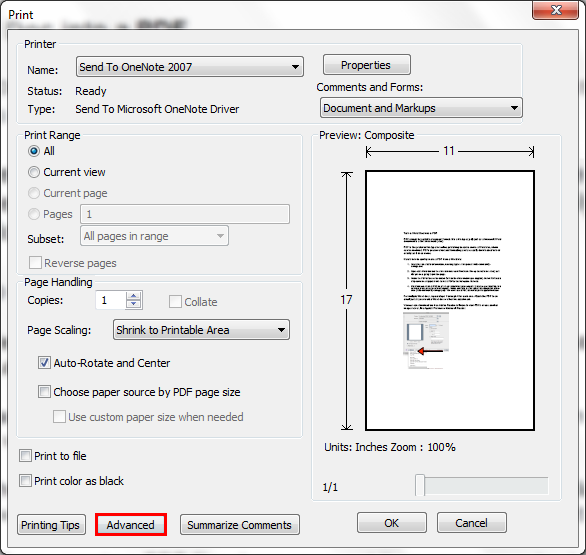 3: Now Click on Print As Image;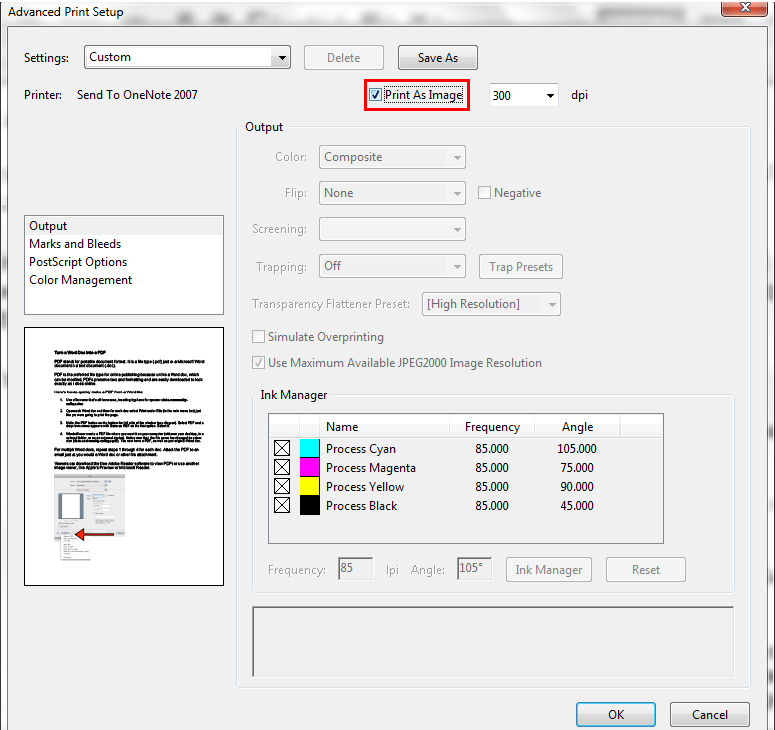 4: Finally, Click on OK to solve the issue of "unable to print PDF files"
Now restart your Computer and printer and after 15 mins try to print the document again. And we hope that users will not have the issue of  PDF files not printing.
The majority of printing problems with Adobe files (can't print pdf documents) ought to be resolved with the help of the steps shown in the section above. For more troubleshooting choices and advanced configuration steps which can be tried, check the Adobe Product Support Center.
Also Read: How to Print Outlook Emails to PDF File Format Quickly?
Conclusion
As we know that PDF is the popular format available online for free to store and share data. Most businesses and users generally use this format to share information with each other over the internet. Moreover, the PDF makes it easier for users to access, view, share, edit, and extract text. But when it comes to print to PDF files, users face the issue of "PDF files not printing". So for that, we have explained a method to solve this issue, step by step we have discussed the solution.