Remove PDF File Password Protection – Easy Solutions
PDF files are the most secured file formats due to application has two types of protection layers; Owner Level Password and User Level Password. The user password is applied to the file and is managed by the user itself. It is plainly applied for viewing the PDF file. However, the owner password is applied to restrict some other actions to be performed on the PDF file. These actions include; Print/Edit/Copy/etc. options that are completely restricted when applied an owner password on the PDF file. In those cases, it has been found that users need to remove PDF file password protection so as to perform these actions on it.
For e.g. some urgent content is required by the user which is downloaded from the internet as PDF format but owner password protection restricts him from extracting essential data. In such a situation it is important to remove the restriction of the owner password so as to make the content extractable.
let's start how the different methods are used to unlock a PDF file from different securities!!!
#Method 1: Remove PDF File Password Protection Using Gmail
Gmail email application has a function well known as HTML View. This viewing option can be utilized as a way to open PDF files dissolving its restrictions. To do this you have to send the PDF file to Gmail account Inbox and open it in HTML format. Once the PDF file is opened in HTML format, its data can be copied, edited or extracted anytime. This workaround is best suited if you just need raw data content from the PDF file.
Limitation
However, the "Print as PDF" option will not be available with this method. This method also will not work for large PDF files as Gmail has some size limitations with files.
#Method 2: Remove Password Protection from PDF File Online
Another way to extract this data is by using online available solutions that are capable to remove or unlock such restrictions. There are many such solutions available amongest which a very popular tool is a smallpdf tool. This software is an online tool in which you have to load your PDF file on the internet and then processing is done on the PDF file. After unlocking the PDF file, it is made available for download which can be downloaded from the link available.
Steps to Remove PDF File Password Protection Using SmallPDF
• Open the internet browser and go to web link of smallpdf tool
• Here select the Unlock PDF option which available as of last option.
• Soon window like below will open where you can either drag and drop the PDF files or click on Choose File.
• When you click on the Choose file option, it links to the system location where you can browse for the PDF file which is supposed to be unlocked.
• One file at a time can be unlocked and if a user password is applied to that PDF document, it must be known to you.
• Once the file is added, it gets processed by the online application and removed password protection from adobe PDF file. The output is then made available for download which can be clicked and the PDF files which are unlocked can be downloaded.
Limitation
The process is very simple but it is completely dependable on the internet connection. This means that whenever you will need to unlock a PDF file, you will have to use the internet, visit a site, upload PDF files and then and only then you will be able to unlock files. Another thing is you cannot take the risk with very confidential PDF files like Bank Statements, Private Details, Official Papers, etc. as files are going to be loaded online which have certain risk factors.
#Method 3: Reliable Tool to Remove PDF File Password Protection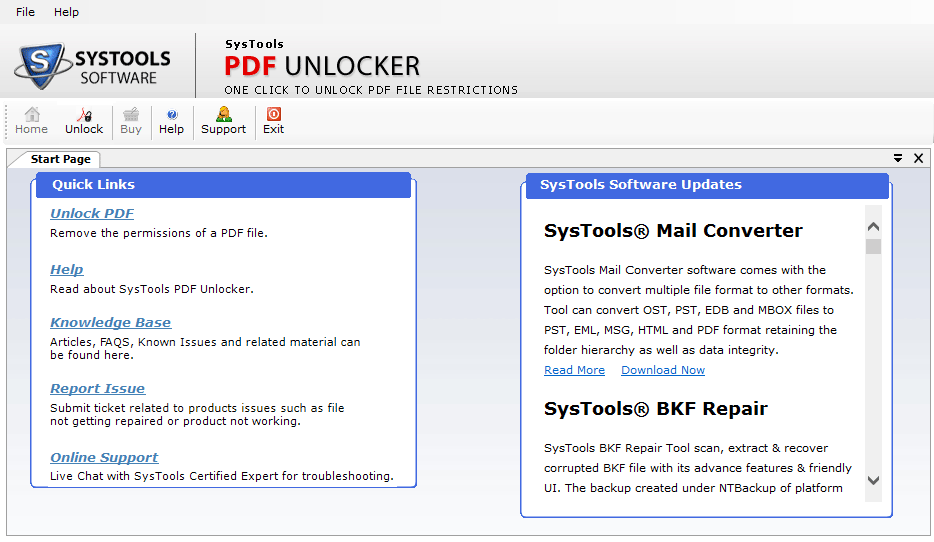 In case you have a very large PDF file and you need a software that can be used further without an internet connection. Or if you have very confidential PDF files and don't want to load them on the internet then you must go for downloadable PDF unlocking programs. Such software programs are also available online which can be downloaded and used for unlocking numerous PDF files. For instance, PDF Unlocker can opt for such need which is available online and unlocks PDF file restrictions without any size limitations. Such software tools are more trustworthy and are capable to unlock multiple PDF files. With the help of this tool, you can remove security from PDF on Mac machine.
Note: But, if PDF file is applied with a User password, it must be known to you or else no tool will be able to help you crack the restrictions on PDF file.
Now let's focus on how the tool works!!!
Steps to Remove PDF File Password Protection
To unlock a PDF file from various securities, you have to download and install the software in your system. Follow the below guidelines to know the working process of the tool;

Step 1: Click on Unlock >> Browse to provide the source PDF path
Step 2: Select the PDF file and click on Open
Step 3: Preview the Permission Status of the current PDF file
Step 4: Next, click on Browse to select a destination location
Note: If the destination location doesn't exist, then choose the Make New Folder box alternatively.
Step 5: Click on Unlock PDF to remove password protection from PDF file
Note: After this step, if the file is encrypted with a password a pop up box will prompt to Enter the password.
Conclusion
In this post, we covered different methods for unlocking the owner password restrictions of PDF files. Every method has its own advantages and pitfalls which are mentioned along with it. It is recommended to go through all the methods and choose the right one as per your demand and requirements to remove PDF file password protection.