Use Multiple Ways to Remove Security From PDF on Mac Machine
PDF files are mainly used for security purposes. Users can add the password in PDF documents easily. As password protection goes a long way in safeguarding PDF files from unauthorized people. While the encrypted PDF files provide much-needed security, it may become a little complex task to remove their passwords especially if you are not much aware of it. In this article, we will use different approaches to remove security from PDF on Mac OS X.
Need to Remove Password From PDF Mac OS
The best way to keep confidential data in a PDF file is to add security to it. This way, when someone tries to access your files he/she should have to enter the password which is known to you or the document receiver. Adding a password in a PDF document protects the file data from any unauthorized access.
But, in many cases, we want to remove security from PDF on Mac so that everyone can view the document. Consider, if a report is in PDF format and is password protected but, it needs to be shared within the organization. So, the only option left is to unlock it. You can easily remove PDF file password protection by various techniques which are discussed in this blog.
Solutions to Remove Encryption From PDF Mac OS
Three approaches can be used to remove password from PDF Mac machines.
1- Adobe Acrobat Pro
2- Mac Preview
3- Automated Solution
Method #1 Remove Restriction from PDF by Adobe Acrobat
The user can unlock security from password-protected PDF documents by using Adobe Acrobat Program. Users can follow these simple steps to carry out the process:
First Open the PDF which is password protected.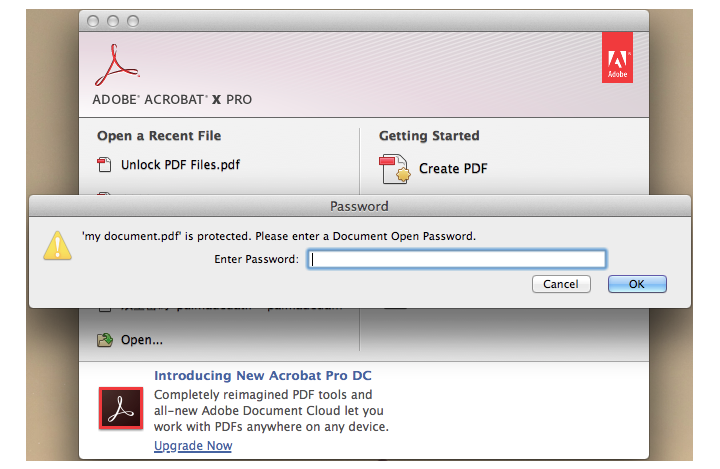 Go to the Secure button.
Choose Remove Security from the drop-down list.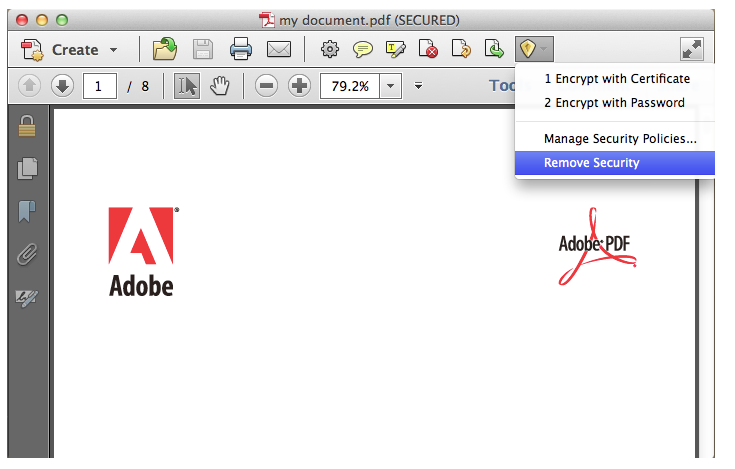 And the user is requested to enter the password to remove encryption from PDF Mac OS.
Note: One thing to be remembered, with the help of Adobe Acrobat users can remove password security from PDF. But, the password must be known to the user. Moreover, these users cannot remove permission passwords from PDF files if it is not known. It is necessary to purchase the Acrobat Pro application program.
Method#2 Use Mac Preview to Remove Security From PDF on Mac
When working on a Mac, preview could be the method to remove password protection from PDF on Mac OS. Just follow these simple steps & begin the process:
Firstly, open password protected file using Preview.
Go to the PDF file & right-click on it.
Click on Open With.
Then, click Preview.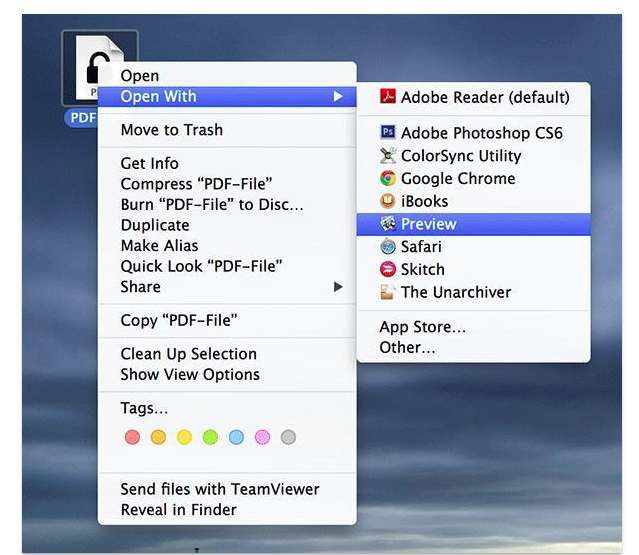 As your file is password protected it asks you to enter the password.
If the password is correct then you can easily view the PDF document.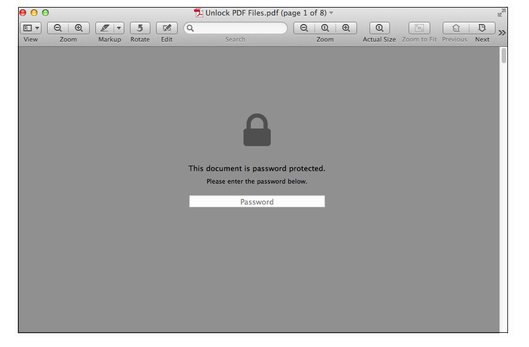 Once the PDF file is opened.
Go to File then Save As.
Choose the desired location where you want to save the password-free PDF.
The option that removes the security from the PDF document on this screen is "Encrypt."
Make sure it is unchecked.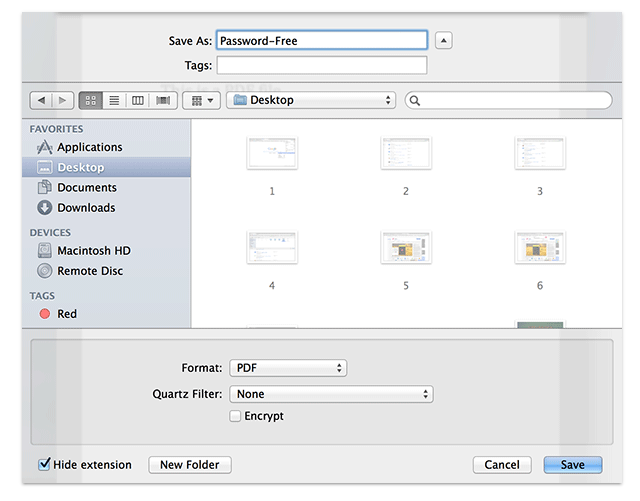 Then click on the Save button.
With the preview, your PDF file is password-free and you can open it using any PDF Reader. You will notice that it won't ask for the password anymore.
Limitations: With the preview app users won't be able to remove security from multiple PDF documents. Moreover, they cannot remove restrictions like (copy, print, edit, and sign) if they don't know the permission password. Therefore, in such cases, it is necessary to use an alternative solution.
Method#3 Quick Solution to Remove Encryption From PDF Mac
PDF File Unlocker for Mac OS is a reliable solution to unsecure a PDF file on Mac efficiently. Users can use this program on any version of the Mac Operating System. Moreover, this tool unlocks the document having AES & RC4 128 & 192-bit encryption. This software is a standalone utility that does not require any extra program to remove file security. Moreover, a user can load bulk PDF files at once and the software can easily unlock multiple locked PDF files at the same time.
Step By Step Process to Remove Password From PDF Mac System
To remove encryption from PDF Mac, the user will have to Download & Install the utility.
Now, by using the Add File/Folder, insert the restricted PDF files or folder to remove security from PDF on Mac.
Then choose whether to either Save or take Print of the unlocked PDF files.
After selecting the option, then use the Change Button to set the destination where the unlocked PDF files will be saved.
Finally, use the Unlock button to remove password from PDF Mac and access your PDF files easily.
Advantageous Benefits to Remove Security from PDF on Mac
Permissions like copy, print, edit, and comment is enabled by the tool
Enable Form filling, document assembly & signing permissions
The user can quickly open a PDF file without any interruptions
PDF files can be easily emailed and distributed via the web
The user can easily share files so that everyone could view it
Also Read: Best Tool Available to Repair Corrupted PDF Files Instantly
Final Words
In this informative article, we have understood the different approaches by which we can remove security from PDF on Mac. As security is the main concern but sometimes we need to be removed, so that files can be easily shared and accessible. Therefore, considering all things here we have discussed multiple solutions that can easily remove password protection from PDF on Mac documents. So users can select any of them as per their requirements.