How to Extract Text and Images from PDF Documents?
PDF files are the best option for exchanging documents or sharing files with other users. This is because PDF readers are easily downloadable and are available for free. But sometimes we need to take some specific text or images from PDF documents and use it on web pages, Word document, PowerPoint presentation, or in Excel file. Here, I am sharing some reasons & solutions to extract text from PDF file as below:
Causes:
Sometimes we need to copy text from PDF file, but due to restrictions are unable to do so.
We can't edit PDF documents because there's no software available in the market by which we can add text or image in PDF files.
We want to save some important images from the PDF file.
A user may need to convert the document, but the conversion process is not an easy task. So, the user can go about the process of extraction.
The PDF file format is not for novice users, so the extraction of text and images simplifies a user working capabilities.
To extract text and images from PDF documents, there are many free tools available in the market. But the result for each is not 100% accurate. To solve this issue we are using PDFWARE PDF Toolbox Software. Some of features are listed below:
It compresses large PDF files into smaller sized PDF files;
Supports multiple files during conversion;
Extracts enclosed text and Images from PDF files;
Supports Windows OS up-to version 8.1.
How to Extract Text and Images from PDF files?
Download the software & install it properly, open PDF Toolbox Software and follow below steps:
Steps to Extract Images from PDF Documents:
Open PDF Toolbox and click on "Extract Images" button: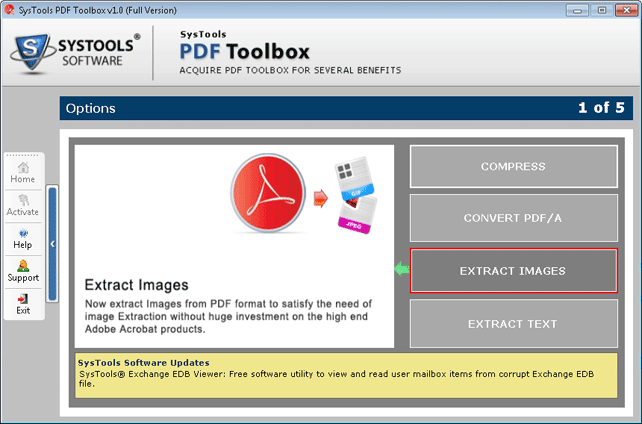 Here you can see Add file (s) & Add folder. Choose any of the option as you per your choice;
If by mistake you have added the wrong file, then you can remove it by click on the Remove button;
Now Select the destination folder by clicking on the Browse button, then click on Next button;
Here you can see settings for extracting images from PDF documents. Choose the setting as you want. Explanation of the options:
Save image (s) as: By clicking on default button you can change the image type, like: TIF, JPEG, PNG, GIF, BMP etc.
Advance Settings: Here you can change the Image minimum and maximum size;
Page Options: In page options you can change the extract image setting by page range, pages or by even and odd numbers.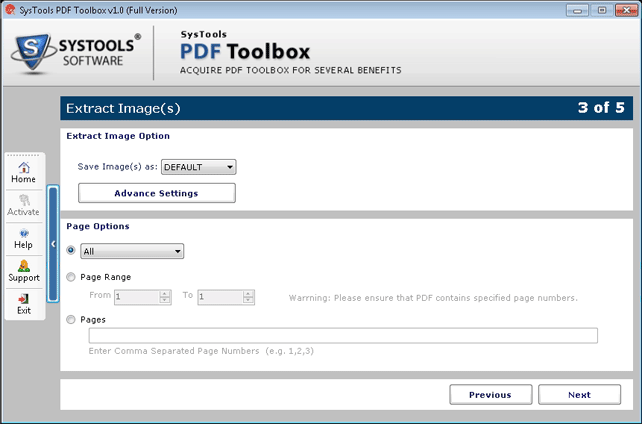 After choosing the options click on Next button;
Here you will be able to see all your settings. If all the settings are correct, then click on the Start button to extract images, else click on the Previous button to change the settings. After the conversion you will see a process completed successfully message.
Steps to Extract Text from PDF Files:
Open PDF Toolbox software and click on Extract Text button: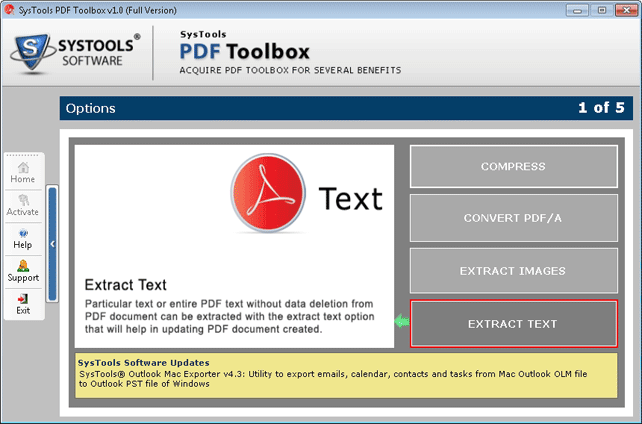 Click on Add File (s) or Folder and choose the document;
Now Choose the file destination by clicking on the below Browse button, then click on Next button:
Now here you can see 2 Options:
Extract Text Option: In this there are some options like; Maintain Formatting and Maintain Page Number. Also, by clicking on Advance Settings you can add page numbers and file name.
Page Options: Here you can choose the page setting, in the format you want. Even, Odd, Page Range & Pages Options are also there.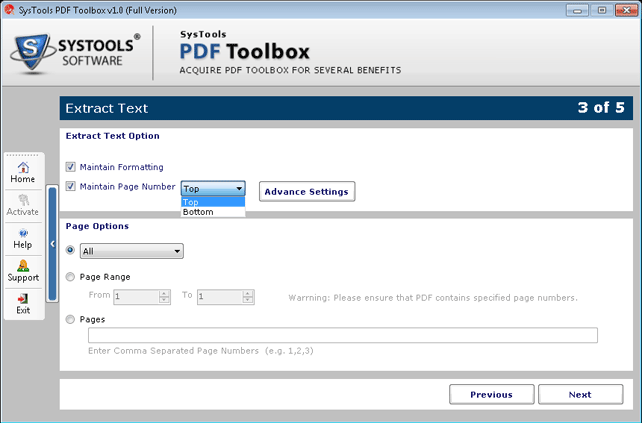 Now click on Next button after completing all the fields;
Here you can see all the settings that you have chosen. If all settings are right, then click on Start button and after a few minutes your file will be converted.
Above mentioned both methods will help you Extract Images and Text from PDF files by using the PDFWARE PDF Toolbox Software.
Conclusion
This is the complete tutorial on how to extract text and images from PDF documents. Besides for extracting text & pictures from PDF documents, PDFWARE PDF Toolbox can also convert PDF to PDF/A format and compress & reduce the size of PDF files.
For more info you can visit official website https://www.pdfware.org.