How to Split a PDF Into Equal Parts Based on Their Size
"Hello everyone, I have a novel that is in the PDF format which contains 200 pages of size 150MB. It has two different stories and my friend ask me to share the half part of that novel. And I want to read the second half of the novel. I am in trouble and thinking to split PDF equally so that I can send the other portion of the PDF book to my friend. But don't know the exact method to break PDF in 2 parts. Can anyone tell me how to split a PDF into equal parts according to their size?
PDF documents that contain a huge range of pages are more difficult to manage. The larger the file the more cumbersome it is to download, send through email, scan, and perform other tasks. Therefore, most of the people want to split a PDF into equal parts based on their size, to make their workflow easy.
Well, if you also have a large PDF document and searching for a relevant method to split PDF into equal parts which makes it easier to handle the files smoothly. Adobe Reader application helps only to read PDF files, cannot be used to split a PDF document. However, you can use Adobe Acrobat to perform this task but the application is quite expensive.
So, let's start with the working of the Adobe Acrobat, and later we will share the alternative method to split a PDF into equal parts.
Methods to Divide PDF File in Two Parts
Split PDF Document Using Adobe Acrobat
Adobe Acrobat Pro DC is a subscription-based program that helps users to perform a variety of editing functions on your PDFs. Also, splitting the file is one of the functionalities provided by the tool.
Follow the instructions carefully to split a PDF into equal parts:
Open the PDF file with Adobe Acrobat Pro DC
Select Tool option>>Organize Pages >> Click on Split.
Now choose the Output Options as File Size
Click OK and then Split to finish.
Click on the Save button to save your new PDF file.
For the interest to save money, here we are going to explain the cost-effective tool that can easily perform the same task without any hassle. Read on the subsequent section to know about it!
Professional Solution to Split a PDF Into Equal Parts
The PDF File Splitter is the streamlined software by which you can easily divide PDF into parts according to size. In addition, the utility provides multiple options like to split PDF by Page, Range, Even, Odd pages, Size, and Each page.
Moreover, the tool is capable to handle the password-protected PDF files for the splitting and merging process.

Salient Features of the Tool
This automated software has lots of advanced features, let's have a quick glance on them.
The tool provides an option to Split and Merge PDF Files in Bulk
Has an option to Skip Attachments from the resultant PDF file(s)
Combine multiple PDF files in New PDF File or Existing PDF file
Does not impose any limitations on the number of PDF documents.
Maintain formatting & keep attachments of the output PDF file.
Supports all the versions of Adobe documents & maintains the originality
Compatible with Windows OS 10 & below & Mac OS X 10.8 & above versions
Now, let's see how to split a PDF into equal parts by using this automated software.
Working Steps to Break PDF File in Two Parts
The process of dividing your PDF into two equal parts can easily be done by using the above-mentioned. The order of operations is simple and can be completed in seconds. Go through the steps below:
Step 1: Download & install the software. Click on the "Spilt" option.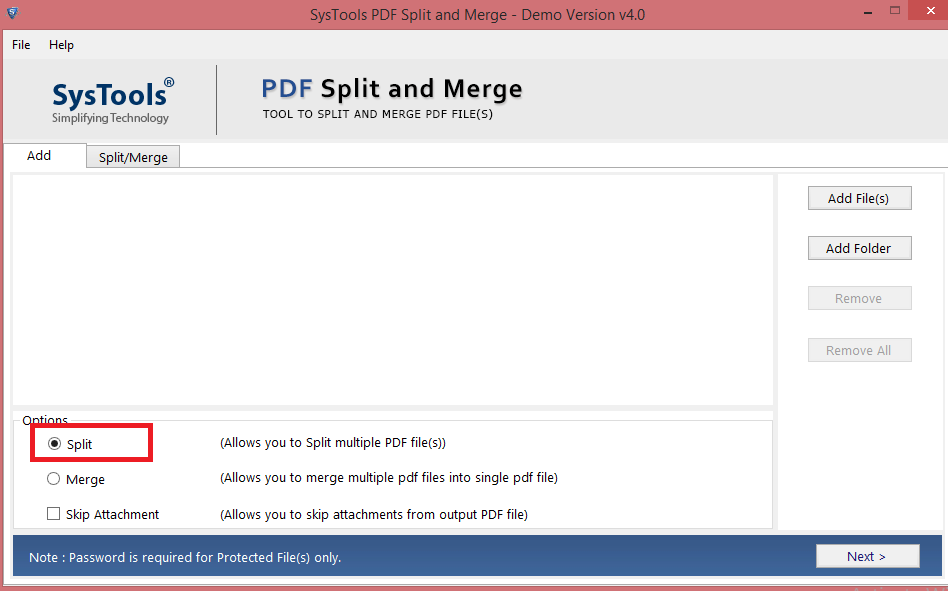 Step 2: Click on "Add Files" / "Add Folder" option to select PDF files.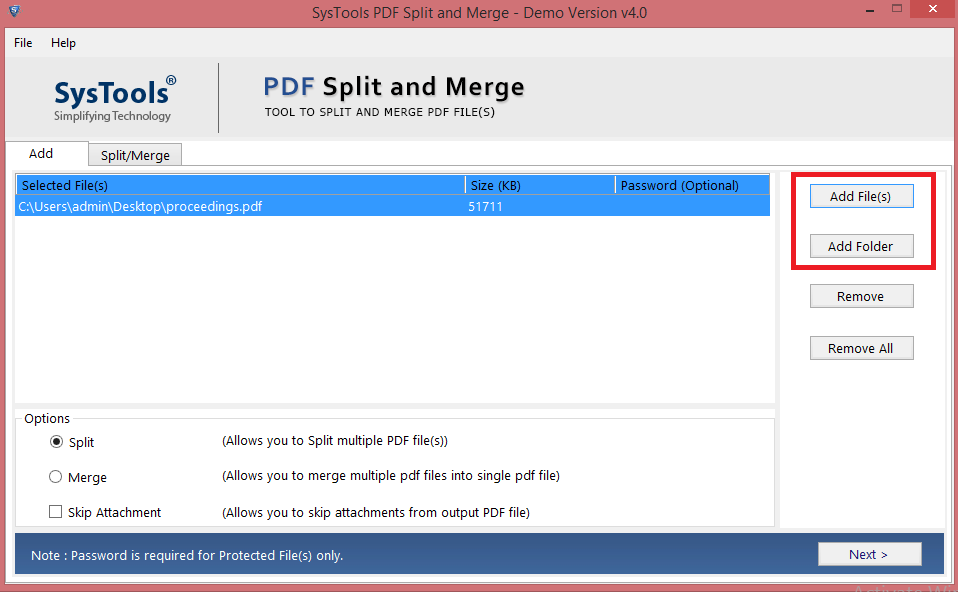 Step 3: Choose the Split By Size option to split a PDF into two equal sizes.
Step 5: Finally, a process completion message will be displayed. Hit OK.
In this way, you can effortlessly divide large size PDF documents into two same-size PDFs.
Concluding Thoughts
This article is a comprehensive guide on how to split a PDF into equal parts according to size. If you want to split your PDF files into equal parts, then you try the above-mentioned methods to split it into half. However the adobe acrobat pro dc tool can be quite expensive for normal adobe users. Thus, we have mentioned the other third-party application that has the same functionality as Acrobat at a lesser price.