How to Export Multiple Photos to PDF File Format in Simple Ways?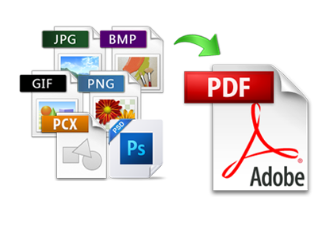 Nowadays, JPEG is one of the leading image formats on the Internet today. It is the acronym for the "Joint Photographic Experts Group". JPEG images are not only used by individuals for personal use but also used by professionals for business advertisements. Another merit of this image format is, that it appears clear on a computer screen. Moreover, it has been observed that when the user is trying to print the image in JPEG format it may lose the resolution, depending on the printer. As a result, there is a need to export photos to PDF. Portable Document Files preserve all visual elements. However, it is ideal for sharing, uploading and printing a high-quality image. So, here in this blog, we will cover the various methods and benefits to export photos to PDF format.
Manual Solution to Convert Picture to PDF File Format
With the help of Adobe Acrobat XI, the user can add images to PDF adobe. It is an application software developed by Adobe Systems to read, view, open, print and manage files in PDF format.
So by using some useful steps users can export multiple pictures to PDF file format
First, locate the Image which you wish to convert.
Adobe Acrobat installation is mandatory.
If it is already installed on your system then Right Click on the Image.
Select Convert to Adobe PDF.
The image will appear as a new PDF file.
Then, click on the Save icon.
Save your file in the desired location.
Refer to this post for  How to Crack PDF Document Password With Maintaining File Integrity
Limitations of Manual Approach to Export Photos to PDF Format
With the help of Adobe Acrobat XI, the user can convert picture to PDF files. But it has some limitations which are given below-
Requires Installation of Adobe Acrobat XI
Time-consuming method
Cannot convert batch images to PDF
Users should have good technical knowledge
Won't get the perfect result as we expected
We have seen how to add images to PDF Adobe file format by using Adobe Acrobat XI, but it has some drawbacks. So, in this scenario, the user can avoid using this manual method(Using Adobe Acrobat) and use a more reliable and quick solution which is explained in the next section.
The Finest Method of Exporting Batch Photos to PDF Using a Powerful Software
In this section, we have explained a solution which can be used to add images to PDF Adobe. The user can the  Pictures to PDF Converter. Software that easily exports photos to PDF. Moreover, it allows the conversion of multiple image files and there is no file size limitation. Images could be of any form like JPG, JPEG, PNG, BMP, or GIF can be changed easily.
Below we have explained the Quick Tool steps which help to make the conversion task less complicated and completes it in less time.
Initially, on the local system using the above-mentioned button to Download and Install the Tool which is available for both Windows OS.
Add Image files to add images to PDF Adobe using the Image converter tool.
Use the Change button for setting the location where the exported image file in PDF format will be changed.
Now in the Settings tab, choose PDF as export format and apply the needful settings. 
After applying the settings use the Preview option to view the files before conversion and then hit the Convert button to export photos to PDF file format.
Advantages Features of Picture to PDF Converter Tool
The software allows the user to add images to PDF Adobe format in batch. Users can upload pictures in bulk.
Generates a preview of all images after loading them into the software and before the conversion process. So, that users could know about the number of files being converted.
There is no file formatting, images are protected from getting blurred. Moreover, it also maintains image quality.
Users can save a file in two different ways i.e save each image in a separate PDF file or save multiple images in a single PDF document.
Adobe Acrobat is not needed to convert picture to PDF in batch. The software performs conversion without the installation of Acrobat. The software is made intelligent enough to keep all the specialness maintained.
Also Read:  Methods to Remove PDF File Password Protection
Final Words
As we know that image formats like JPEG, JPG, PNG, etc can be altered easily. However, the Portable document file format cannot be changed or modified easily. However, when users sends photos in PDF file format then, they will not be altered. We have seen that with the help of Adobe Acrobat XI, users can export photos to PDF but it has various limitations. So, it is recommended to use our tool which easily add images to PDF Adobe. Even, the software doesn't require the installation of Adobe Reader also.