Explore the Multiple Ways to Remove Unknown Password From PDF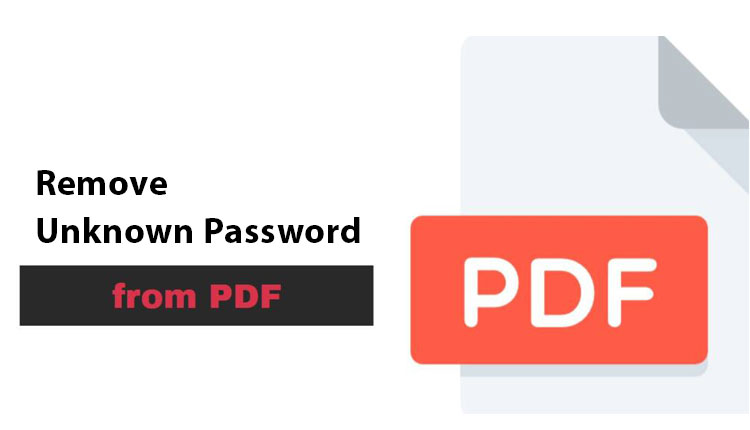 User queries: It's been a few weeks since I joined my new firm and I have received some PDF files which are secured with a password, now I need access to that file that was password protected by the former employee. So, I need to know the solution to remove unknown password from PDF.
One of the best document-based formats "Is PDF", which is a quite popular format to store and share images, Text data, attachments, Metadata etc. The security factor also comes into this, which makes it a more usable format for users. From Businesses to regular users, every person uses this digital data storing format to share easily. But at times people receive PDF files which are restricted, and it doesn't let users to perform activities (Copy, Edit, Extract, Print data). So, to remove unknown password from PDF, we have discussed some tried and tested methods.
Before we move on to get the solution to unlock locked PDF documents. Let's understand some important terms related to PDF file protection.
What are the PDF Securities Involved in PDF Protection?
Let's suppose the user has a secured PDF file and he types the correct password which we can call a User-level Password or Document open password. So now the user can open and view the PDF file data but cannot print, extract, copy and edit data. For that, the user will need to enter the Owner lever password and then the user is allowed to perform. Applying this kind of protection helps in safeguarding your PDF files. It's an ideal way to keep your files away from unauthorised users. It is quite simple to set up an owner-level password. However, users can also take off password from PDF using a security remover software or the Adobe application. There are various ways to unsecure a PDF file on Mac efficiently and on Windows also.
After knowing the essential terms and their usage, let's start with the procedures.
Using Adobe Acrobat DC Pro to Remove Unknown Password From PDF
With the help of this application, users can delete encryption from PDF files. However, users will need to use the full version of this application and for that, they have to purchase a subscription. If the user has the full version, then follow the steps.
Launch the

Adobe Acrobat DC Pro

application and open the locked PDF.

Now press the

File

option ->

Properties

->

Permission details.

Then, in the

"Security"

tab, press the

"No Security"

option.

Type down the permission password

to unlock pdf files.

Press the

Yes

to confirm the PDF restriction removal process.
Drawbacks of Using this Adobe Acrobat Pro Version
Cannot

take off password from PDF

in batch at same time

Permission Password is needed for deleting restrictions

Cost of purchasing the subscription is high

Limited-size PDF files can be unlocked at a time.
Proficient Method to Remove Unknown Password From PDF
Some people might have the full version of Adobe Acrobat, and some will buy the program to unlock the secured PDF. But there will be several users who are unable to buy that application. So, for those, we will suggest using the PDF File Unlocker Software. The utility is best for unlocking or removing restrictions from multiple PDF files at the same time. 
Working of the Software to Unlock the Protected PDF Files 
1: Initially, you have to download the tool and run it on Windows or Mac OS.
2: Add the restricted PDF files using the Add Files / Add Folder.
3: Now choose either to Save or Print option as required.
Note: If the file is secured then enter the document-open password and press Next.
4: For the file saving setup uses the  Change button and fix the destination to remove unknown password from PDF and save files.
5: Lastly, hit on the Unlock button to begin the process to take off password from PDF documents.
Also Read: How to Split a PDF Into Equal Parts Based on Their Size
Conclusion
Numerous users use PDF files for storing and sharing data & information. As being the secured Document format, generally, people prefer this. PDf files have a feature to apply a lock or restriction on a particular PDF file. However, at times users do deals with protected PDF files and they require to remove unknown password from PDF. So in this post, we have discussed various methods to delete protection for all PDF files. One can use the Multi-functional Adobe Acrobat application which costs high or can go with the budgeted software which we have mentioned in this article.