How a User Can Repair Unreadable PDF Files Conveniently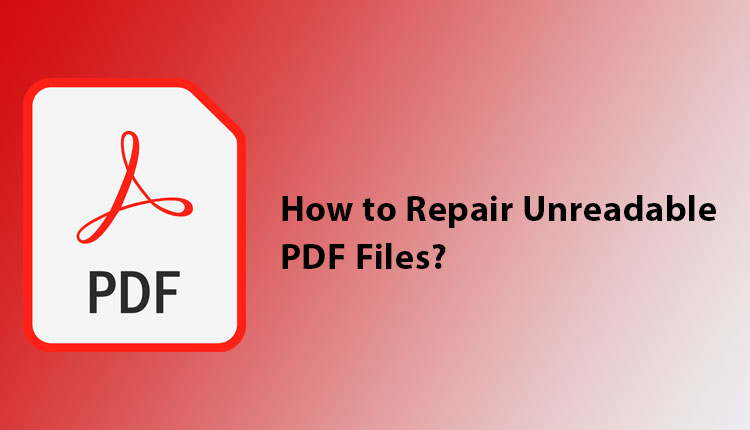 Summary: At times, users enter into a circumstance where they get unable to open their PDF files and later they find that the PDF files are corrupted and can't read them. So, this article clearly focuses on explaining techniques to repair unreadable PDF files without losing any data.
 As we are familiar with PDF files which is a document-saving format. The organisation commonly uses PDFs to store firm-related data, financial records, invoices etc. Common users use this format to store their personal data on a smaller scale.
Apart from storing data digitally, it also provides the security feature to protect PDF files. However, we have seen some cases and user queries which tell a different story of PDF files. Several users are unable to view corrupted PDF files or the error "PDF file is damaged and cannot be repaired". Hence, through this article, we will be explaining methods to find the solution and resolve the issue. 
Why Users Gets Unable to Access Corrupted PDF Files
Files getting corrupted is a nearly common thing that occurs with the users. While opening the PDF file, they can see some errors displaying on the screen and they can not open or view the PDF files. Such a situation arises because of some reasons and some of the common reasons are: 
File Downloading Problems
Downloading files in an improper way could corrupt/damage PDF files. Using an unstable internet connection while downloading is the reason. Not downloading PDF files in the right way disturbs file structure, sometimes it leads file corruption and later it needs to repair unreadable PDF files.
 

Hard drive or Portable Storage Failure
Saving on the device or on Portable drives means storing PDF files on either a Hard drive or a USB storage media. However, at times there can be an electrical short circuit, excessive hardware heating any other technical errors which could lead to a hard drive or storage media failure.
Unknown viruses or malicious files in the system could be the reason for the PDF file corruption. These are vulnerable to virus attacks and get infected by the influence of malicious content and then the users require to repair unreadable PDF files 
Improper system shutdowns & power failures
Often time, the improper shutdown or sudden termination of the system (Power failure) during the downloading or transferring interrupts and damages the files. So it needs to be considered whether the system is working correctly while performing the download process.
Manual Way To Fix/Open Corrupted PDF Files
Many times the issue related to PDF files gets solved just by updating the installed Adobe Acrobat or reinstallation the application.    
Here you will need to perform a system check where you have to check your Adobe Acrobat/ Reader version, and does it requires updating or reinstallation. Sometimes, the older version of the application does not support the subsequent editions of PDF files.
Open the Application Adobe Acrobat

or PDF Reader on the system

Use the Help option

and check for the latest updates

See if any update is available and click to update

if the latest version is present and ready to download.
After performing all the checks and still you can't open the PDF files. Then we will suggest using another method which helps in repairing the damaged or corrupted PDF files and lets you open and view the PDF files. 
The Ideal Solution to Repair Unreadable PDF Files in a Professional Way
A few users find difficulty after doing all the checks, they still face the corruption file issue. So here we will recommend users to use the PDF Document Recovery Software which is the finest utility that repairs and recovers data from corrupted PDF files and makes it a healthy PDF which can be accessed easily. Moreover, it helps in solving error-based issues and also provides the option to restore and get data back.
It recovers text and images from PDF files. It's the best software to repair & Open corrupted PDF files consisting of graphics, texts, images, and hyperlinks without compromising on data integrity or loss.
Step-by-Step Process to Repair Unreadable PDF Files
Follow these simple steps for Repairing and Recovering the Corrupted PDF documents:
1: Download the tool, Install and run the tool on the local system. 
2: Load the PDF files for repairing and Scan the corrupt PDF file.
3: Displays the data of the recovered PDF file.
4: Now, choose the folder where you want to save the recovered files and hit on the Save button.
Also Read: Explore Multiple Ways to Remove Unknown Password from PDF
Conclusion
Several times we see that every user once in a while deals with PDF file corruption. So, to avoid this issue, we have discussed some methods that can be used to repair unreadable PDF files. Moreover, we have explained the reasons behind the PDF file corruption. Here we have explained the manual and professional methods to recover PDF files in a proper manner. Explore the solutions and choose the suitable one.