Know how to Unlock Password Protected PDF Using 2 Best Methods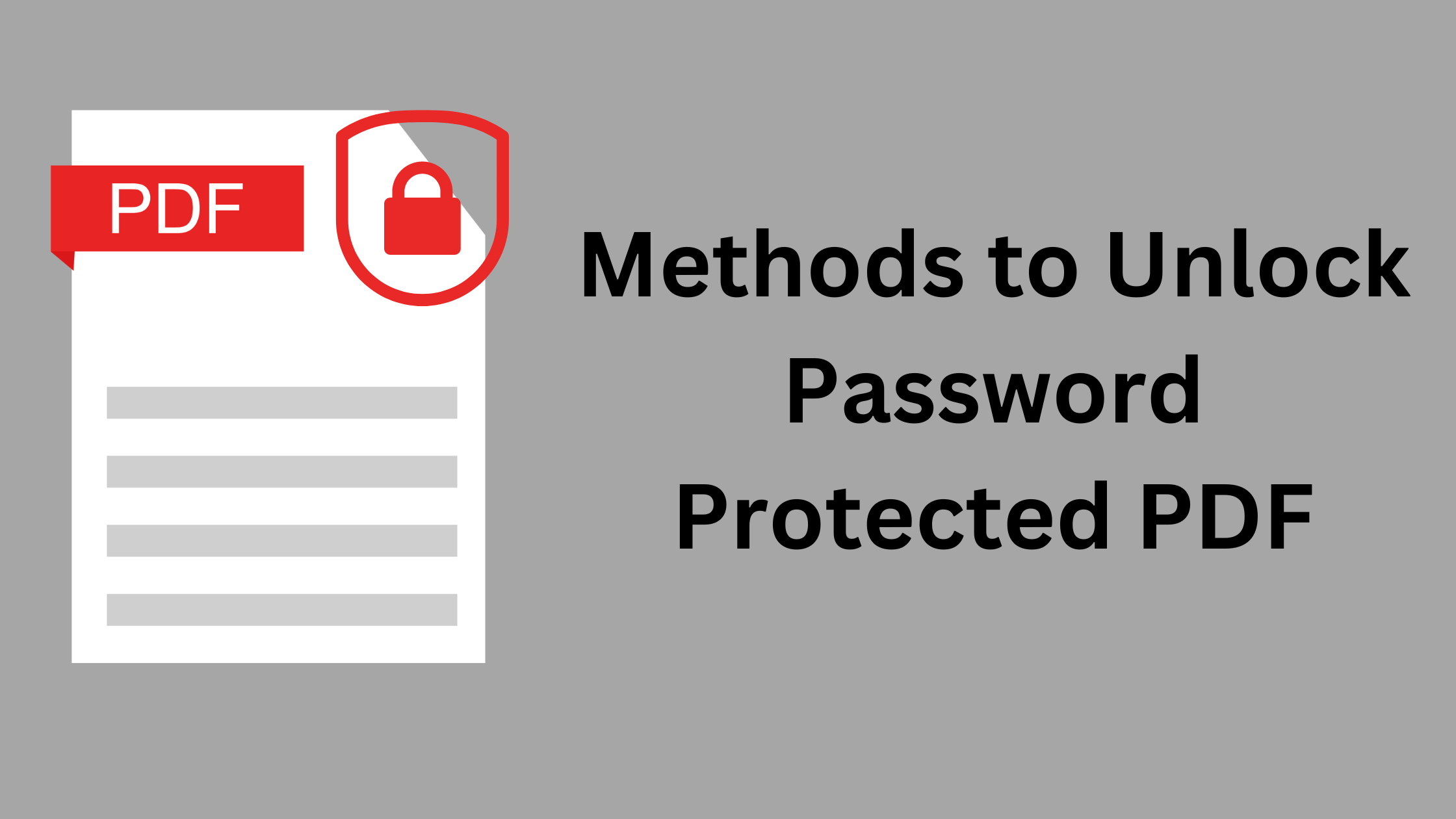 Many times, people around the world using PDF files enter into a situation where they deal with PDF files which are secured with some kind of Password. Well, PDF provides this facility to secure your Digital documents with a password. But what if a user gets a few PDF files with a password and not allowing them to either open or perform any actions like Edit, Copy, Print, Extract etc? To do this, they will need to unlock password protected PDF.
So, with the help of this post, we will explain some useful resources/methods which can be used to crack pdf passwords and access or perform actions on them.
Table of Content
Before getting to the solution, it is important to know what type of restrictions are there and what are the solutions to remove restrictions from PDF file.
Types of PDF Password Restrictions For PDF Files
Securing PDFs with a password is majorly used by organisations to maintain their data privacy. It's the best way of safeguarding PDF data files from unauthorized users.
But, when it comes to unlock password protected PDF, we should understand what type of restrictions are there, and which password is for which protection level.
So basically, there are two types/levels of protection:
User Level Protection – To prevent users to view or access specific PDF files, the PDF file owner can use this type to restrict others to view the PDF files. So basically, a user will require a document open password to read data only.
Owner Level Protection – In this type of restriction, PDF file creator can secure their file data by disabling the actions that can be performed on the PDF files like Print, Edit, Extract, and Copy. So, to perform certain actions on a restricted PDF file, an Owner Level password will be needed.
Unlock PDF File Using Adobe Acrobat DC Pro
So, in this section, we will be explaining how users can unlock password protected PDF by using Adobe Acrobat DC Pro. Firstly, the user should know that Adobe Acrobat DC Pro is paid subscription, the user will need to purchase this to unlock locked PDF files. If the user has it already then follow the steps to unsecure the PDF files.
Open the PDF file with Adobe Acrobat DC Pro
Press the File option and Under the File hit the Open
Then, double-click on the PDF file that the user wants to access.
Now provide the password as the PDF is locked. Then press the Ok 
Select the Padlock option (which looks like a lock).
After pressing, a Security Settings head window will come up in which there are Permission Details. Press it.
Now click the Security Method and in the drop-down select 'Password security.' Then select the No Security option.
Then, type the PDF's password. Now, press the OK twice and you will be able to unlock password protected PDF
This way users will be able to Remove Unknown Password From PDF easily using this method. However, to remove passwords from bulk and large PDF files, the method will not be suggested to the users. Using software will be the ideal solution for this.
Using the Professional Tool to Unlock Password Protected PDF Files
Other than using Adobe Acrobat, the is left with only one option which is to use a professional solution called PDFWare's PDF Unlocker Software. This application removes the restriction password (owner-level protection) from bulk PDF files without causing any difficulties. The best thing about this tool is that after using it the user will not be required to type down the password again when accessing the PDF file. Moreover, this utility is developed and can be used by Mac and Windows users.
Complete list of PDF Documents that can be unlocked using this software. Take a look:
Receipts Bills
PDF Forms
Bank statement PDFs
Journals & E-books
Aadhar Card PDF
PDF Contracts & Agreements
Guidance on How to Use this Software to Unlock Password Protected PDF
Initially, the tool needs to be downloaded and installed to remove restrictions from PDF file.
By using the Add file option, insert the PDF files to the utility's panel.
Then enter the PDF file password or continue the process to remove owner level password. Press the Next button.
Here, the user can choose to either Save or Print PDF files.
Finally, set the location to save the unsecured PDFs and press the unlock button.
Also Read: How to Split Multi Page PDF into Separate PDF Files
Conclusion
There are several users who deal with secure PDF files and want to know the best and most efficient solution to unlock password protected PDFs. So, in this post, we have explained the manual (using Adobe Acrobat) & automated (Software-Oriented) solutions in detail. With proper steps discussed to make it simple for users to crack pdf documents.